(GYXTW)Outdoor Light Center-Bundle Fiber Optic Cable
Brand Name: KOLORAPUS (manufacturers and suppliers)

Sample: Available

unit price<=$15 ,free sample and need to pay the freight.

unit price >$15,need to pay the double sample fee and freight.

MOQ:>=$7000

Certification: ISO/3C/CE/ROHS/UL

Payment Method: T/T

Origin: China



Part Number (GYXTW) Definition:
The GYXTW fiber optic cable is designed for outdoor communication applications, with the part number breakdown as follows:
GY: Communication room (field) outdoor optical cable
X: Cable center tube (cover) structure
T: Filled structure
W: Steel-polyethylene bonded sheath with steel wire (referred to as W sheath)
GYXTW Fiber Optic Cable
The GYXTW fiber optic cable involves sheathing 250μm optical fibers into a loose tube filled with a waterproof compound. Water-blocking material is incorporated between the steel tape and the loose tube to ensure the cable's compactness and longitudinal water blocking. This type of cable is widely used for long-distance communication and inter-office communication, gaining popularity globally. Among these cables, the 8-core GYXTW Fiber Optic Cable stands out as the most popular.
GYXTW Fiber Optic Cable
1)There is a moisture-proof layer and an armored steel tape layer between the cable core and the sheath to prevent corrosion.
2)Two equal reinforced steel wire structures ensure the excellent torsion resistance and tensile resistance of the optical cable.
3)Dry-type water-blocking design of the cable core avoids relative slippage caused by direct contact between the water-blocking ointment and the sheath, making the overall structure of the cable more compact and strong.
4)It is suitable for the use of building backbones and access backbones with long transmission distances.
5)Full cross-sectional water-blocking structure with special oil paste filling in the pine tube to ensure good water and moisture barrier performance.
6)Third party inspection report available.
Specification:
| | |
| --- | --- |
| Standard | YD/T769, ISO/IEC 11801, ANSI/TIA -568-C.3 |
| Optical fibre specifications | B1.3 |
| Attenuation @20℃ (dB/Km) | @1310≤0.36, @1550≤0.22/@850≤3.0, @1300≤1.0 |
| Number of fiber cores | 4/6/8/12 cores |
| Sheath material | Steel-polyethylene bonded sheath with steel wire |
| Sheath | MDPE, black |
| Allowable tensile force | Long-term 600N, short-term 1500N |
| Allowable crushing force | 300N/100mm long term, 1000N/100mm short term |
| Minimum bending radius | 20D dynamic, 10D static |
| Laying method | pipeline, non-self-supporting overhead |
| Temperature range | for storage and transportation : -40℃~+60℃, for installation and laying : >-15℃ |
Order information:
| | | | | | |
| --- | --- | --- | --- | --- | --- |
| Product name | 4-core Model id | 6-core Model id | 8-core Model id | 12-core Model id | Packaging Method |
| 9/125um Outdoor single-mode OS2 central bundle tube optical cable | GYXTW-4B1.3 | GYXTW-6B1.3 | GYXTW-8B1.3 | GYXTW-12B1.3 | Wooden shaft |
GYXTW Fiber Optic Cable Structure:
The 250μm fibers are placed in a loose tube made of high modulus plastic, which is filled with a water-resistant filling compound. The tube is longitudinally wrapped with a layer of PSP. Water-blocking material is applied between the PSP and the loose tube to maintain cable compactness and watertight integrity. Two parallel steel wires are positioned on the sides of the steel tape.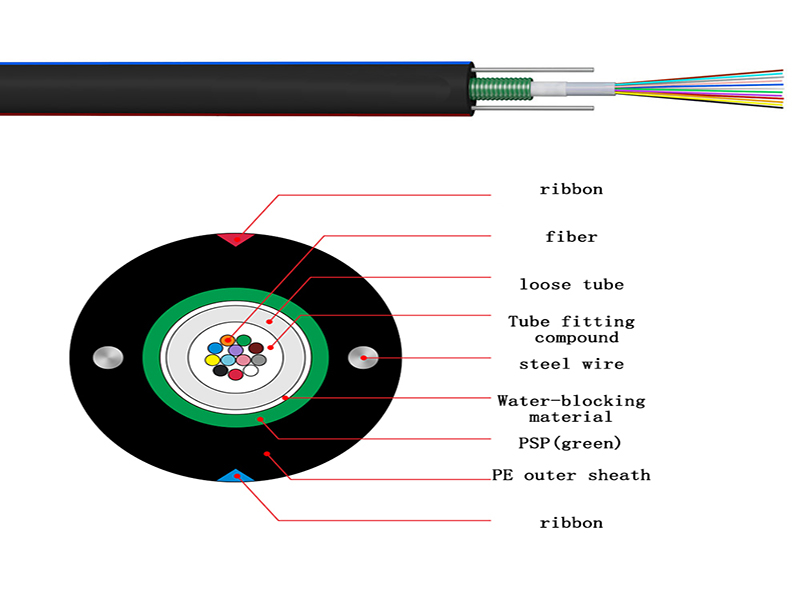 Customized Light Armored Cable:
There is an option to have the cable specifications printed on the unitube light armored fiber cable. Additionally, a customized packaging service is provided, allowing the printing of your logo on the wooden drum.
Applicable Laying:
These central loose tube optical fiber ribbon cables are suitable for installation in aerial or duct environments for communication between bureaus, metropolitan networks, access networks, and are especially suitable for situations where high-density fibers are expected. The laying modes include aerial and conduit installations. It is suitable for rural communication, local trunk lines, CATV, computer network systems, long-distance communication, and LAN.
The GYXTW fiber optic cable has significantly impacted the telecommunication industry, offering superior features compared to other types. It is widely available in the market, easily accessible for purchase, and installation does not require technical expertise, making it user-friendly.