(GYTA53) Outdoor Loose Sleeve Layer Stranded Reinforced Armored Optical Cable
Brand Name: KOLORAPUS (Manufacturers and Suppliers)

Sample: Available

unit price<=$15 ,free sample and need to pay the freight.

unit price >$15,need to pay the double sample fee and freight.

MOQ:>=$7000

Certification:ISO/3C/CE/ROHS/UL

Payment Method: T/T

Origin: China



Part Number (GYTA53) Definition:
GYTA53 is defined as an outdoor optic communication cable with a filled structure and an aluminum-polyethylene bonded sheath (referred to as A sheath). The specific components are further broken down:
GY: Outdoor optical communication cable
T: Filled structure
A: Aluminum-polyethylene bonded sheath
5: Wrinkled steel belt
3: Polyethylene protective sleeve
GYTA53 Optical Cable:
The GYTA53 optical cable is designed for long-distance communication, local trunk lines, CATV, and computer network systems. This armored outdoor fiber optic cable, featuring a steel tape, is suitable for direct burial. It consists of a loose tube twisted around the central resistance element, with an inner PE shell, longitudinally grooved steel tape reinforcement, and an outer PE sheath. The internal LAP sheath ensures longitudinal moisture protection, providing excellent adaptability to environmental conditions and mechanical performance.
Specification:
| | |
| --- | --- |
| Standard | YD/T901, ISO/IEC11801, ANSI/TIA-568-C.3 |
| Optical fibre specifications | A1b (OM1) |
| Attenuation @20℃ (dB/Km) | @1310≤0.36, @1550≤0.22/@850≤3.0, @1300≤1.0 |
| Number of fiber cores | 4/6/8/12/24cores |
| Reinforcement | Phosphorized round steel wire |
| Inner Sheath material | Aluminium-polyethylene bonded sheath |
| Inner Sheath | MDPE, black |
| Outer sheath material | steel - polyethylene bonded sheath |
| Outer sheath | MDPE, black |
| Permissible tensile force | 1000N long term, 3000N short term |
| Permissible flattening force | 1000N/100mm long term, 3000N/100mm short term |
| Minimum bending radius | 25D dynamic, 12.5D static |
| Laying method | direct burial |
| Temperature range | for storage and transportation : -40℃~+60℃,for installation and laying : >-15℃ |
Order information:
| | | | | | | |
| --- | --- | --- | --- | --- | --- | --- |
| Product name | 4-coreModel id | 6-coreModel id | 8-coreModel id | 12-coreModel id | 24-coreModel id | Packaging Method |
| Outdoor Multimode Layer Stranded Armored Optical Cable | GYTA-4A1b | GYTA-6A1b | GYTA-8A1b | GYTA-12A1b | GYTA-24A1b | Wooden shaft |
GYTA53 Optical Cable structure
The cable structure involves sheathing 250μm optical fibers in a loose tube made of high modulus material, filled with a waterproof compound. The cable core has a metal-reinforced core, sometimes extruded with a layer of polyethylene. The loose tube, along with a filler rope, is twisted around the central reinforcing core, forming a compact and round cable core. Gaps in the cable core are filled with water-blocking fillers. Plastic-coated aluminum tape (APL) and double-sided plastic-coated steel tape (PSP ) are longitudinally wrapped and then extruded to form the cables.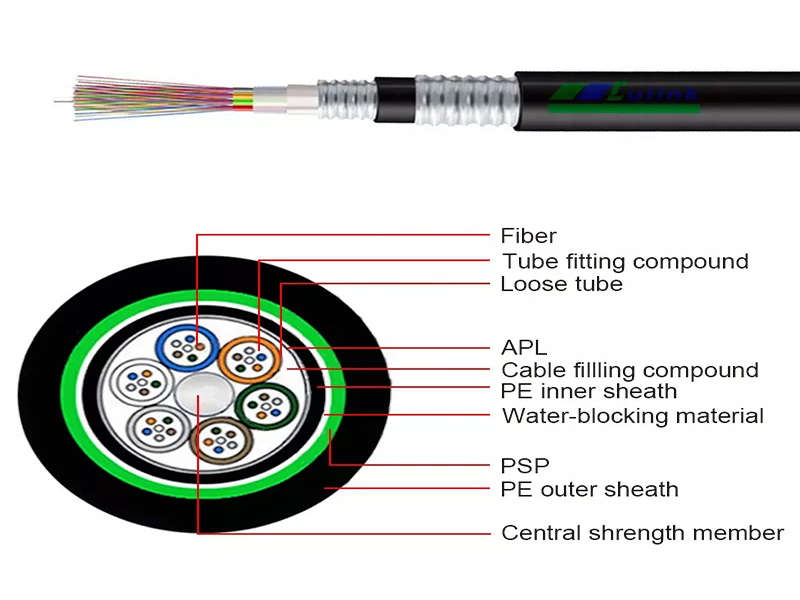 GYTA53 Optical Cable Features
Full cross-sectional water-blocking structure with special oil paste filling in the loose tube to ensure good water and moisture barrier performance.

Third party inspection report available.

GYTA53 is a double-jacket, double-armored, stranded loose tube outdoor cable.

Loose tube stranding technology allows fibers to have good secondary excess length, ensuring stress-free fibers under longitudinal stress.

Metal strength member offers excellent strain performance.

Utilizes "SZ" bidirectional layer twisting technology.

Reliable bonding of steel (aluminum) belt with high strength and no cracking when twisted.

Almost zero additional attenuation of the fiber after cable formation.

Excellent environmental performance with an applicable temperature range for storage, transportation, and installation.

Suitable for laying methods such as overhead, pipeline, and direct burial.

Double-sided plastic-coated aluminum tape-polyethylene bonded sheath provides excellent moisture resistance.

Double sheath and double armor structure offer excellent compression resistance.

Effectively prevents damage from rodents.
Applications:
GYTA53 fiber optic cable, with its steel tape and aluminum tape armor and double sheath, is suitable for installation in harsh environments with expected mechanical impact, such as direct burial applications. It is also ideal for duct installations where rodent resistance or moisture resistance is a consideration.
Applications include long-distance communication, inter-office communication, and scenarios with high requirements for moisture and rodent resistance.
Reliable Water and Moisture Protection
The Outdoor Loose Sleeve Layer Stranded Reinforced Armored Optical Cable from KOLORAPUS is designed to provide exceptional performance and durability in outdoor environments. With its full cross-sectional water-blocking structure and special oil paste filling in the loose tube, this cable ensures excellent water and moisture barrier performance, keeping your connections safe and dry.
Whether you're setting up a network in a rainy or humid location, this optical cable is your reliable solution. Its advanced design prevents water ingress and minimizes the risk of damage caused by moisture. You can trust that your data transmission will remain uninterrupted even in challenging weather conditions.
Third-Party Tested and Approved
At KOLORAPUS, we prioritize quality and customer satisfaction. That's why our Outdoor Loose Sleeve Layer Stranded Reinforced Armored Optical Cable comes with a third-party inspection report. This report confirms the cable's adherence to industry standards and specifications, giving you peace of mind knowing that you're investing in a reliable and top-quality product.
With our commitment to transparency, we provide you with the necessary information to make an informed purchasing decision. The third-party inspection report is a testament to the superior performance and durability of our optical cable, ensuring that you receive a product that meets and exceeds your expectations.
Tailored to Your Networking Needs
The KOLORAPUS Outdoor Loose Sleeve Layer Stranded Reinforced Armored Optical Cable offers exceptional performance and versatility to meet your networking requirements. With its range of features and specifications, this cable is suitable for a wide range of applications.
Featuring 4/6/8/12/24 fiber cores, this cable allows you to build reliable connections with ease. The optical fiber specifications comply with A1b (OM1) standards, ensuring efficient data transmission. Its low attenuation values at different wavelengths guarantee high-quality signal transfer.
Designed for durability, this optical cable incorporates phosphorized round steel wire reinforcement for added strength. The aluminum-polyethylene bonded inner sheath and steel-polyethylene bonded outer sheath provide robust protection against external elements, making it suitable for direct burial installations.
Whether you're setting up a network for residential, commercial, or industrial purposes, the KOLORAPUS Outdoor Loose Sleeve Layer Stranded Reinforced Armored Optical Cable is the ideal choice to ensure reliable and high-performance connectivity.